Greetings from chancellor
Philosophy of KIBiT: higher education is a necessity for modern person, institution of higher education is the starting point for those who chose the path of success in his career and the way of harmonious development of personality.
We live in a world of rapid changes: sometimes new generation could radically rethought meaning of events and phenomena, that exist beyond our daily attention. So, in the mid of the twentieth century higher education was the privilege of the few, at the end of the century it became an opportunity for those who wanted it, and now higher education is a necessity.
Speed of accumulation of human knowledge are beyond the capacity of individual study – even for talanted. You can not know everything, new knowledge sometimes completely refute the previous achievements of civilization.
In this environment, modern person has not only constantly to acquire new knowledge, but also to learn always to be in professional communication and adequately convert this knowledge into results. That means to apply it integrally, wider than just in relation to a specific area of expertise. To learn and to grow – is the need of time.
Mission of KIBiT is to learn continuously to acquire knowledge, to transform it through own experience, enable development using the latest educational and research technologies, train specialists of a new formation that can practically implement their knowledge in management and financial services, in business, in industry.
KIBiT serves for a comprehensive youth development, constitutes the ideals of freedom and democracy, promotes the creative, intellectual, social, economic and cultural development of the individual through the mastery of knowledge and it application for the innovative development of Ukraine.
KIBiT supports integration into the global system of higher education, taking into account the general trends of harmonization of education and also maintains and develops the best traditions of national higher education. KIBiT  is a leader in the implementation of regional systems of education and training to the needs of regions of Ukraine.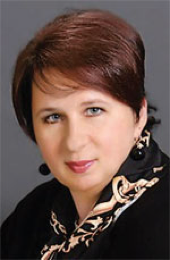 Mission of KIBiT is to rise leaders who can change the world.

We welcome students from different countries, and we are glad to have the diversity that international students contribute to the University.

Elena Yakovleva, Doctor of Philosophy, professor